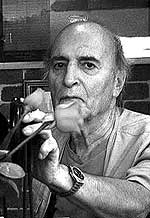 Nikol Faridani
Photographer
Iran

My name is Nikol Faridani. I was born on December 28, 1935 in the city of Shiraz, moved to Isfahan when I was two, completed my elementary education at Shah Abbas School in Jolfa district, moved to Tehran with my family and then to Kerman a year later, completed my high school education there, and ultimately came back to Tehran in 1955 with my father.
Living in Kerman proved to be consequential in my life. This was where I first held a camera in my hands.
My father was working for the "Point Four" Plan and for a person named Hossein Sharifi. He was in charge of photography for "Point Four" and used to ask for my help drying and glazing pictures every now and again. All my passion and interest for photography germinated in that darkroom. A short time later, I asked him to let me work with a camera. "You know not how to take pictures," was his flat answer. That was the truth, I admitted, but I promised to get a crack at it soon enough. He finally gave me a "bellows" type camera, modeled "Zeiss Ikon 6x6", with an Ortho type roll of film. I ruined that roll because I used a red filter to take a high-contrast picture of the fluffy clouds against the blue sky. The Ortho film is not sensitive to red tonality. What I wanted to do had to be done with Panchromatic film.
My father, who noticed my interest in photography, bought me a 35 mm Argus camera that made it easier to snap shots. He later gave me a Nikon S-2. It was such a joyous moment. Every occasion we had, my friends and I rode our bikes past the Kerman–Mahan trail to hunt for sceneries, of nature or of places where people had lived in one time or another. On our return in the afternoon, tired and worn out from the trip, we would go to our cramped darkroom to develop the films. I constructed that darkroom out of a heavy cardboard with tin sheets to cap holes, and had come by a developing tank together with an aggrandize.
Soon after, one of my father's friends from Isfahan named "Sombat", a water colorist, came to visit us and noticed my photos on the wall. He asked about the photographer. When my father said that it was I, "Sombat" advised him to take my work seriously and invest in me. To him, a good photographer was in the making. A Zoroastrian photographer of the 1950s, the late Mr. Sohrabi, thought the same. He had a shop on Shapour (Shariati) Street, and whenever I went there he encouraged me to continue taking pictures.
With such encouragements and my avid interest in photography, my father brought back two Agfa-color rolls from Tehran. These were brand new on the market and only the Agfa Lab in Tehran had them. I set to work immediately. I took careful shots of the city and vicinity of Kerman, of its nature and historical remains. I then took the rolls to the airport and gave it to an officer who was leaving for Tehran on a military airplane and asked him to take them to Agfa Lab on Istanbul Street.
A short time later, I went to my father's office in "Point Four". On his desk was a color photograph of Emam-zadeh Dehestan, a sanctuary in the village of Ekhtiar-abad eighteen kilometers from Kerman. I told him that I had taken that picture. He told me that an American who had taken the picture himself had given it to him. I insisted that the photo was mine. I told him about the picture's angle and the date I went on my bike to take it. He went to his desk, opened a drawer, and came out with the photos I had taken. I glowered at the photos for a while, finally rushing home to show them to my mother.
The day after, I took the prints to my high school principal announcing their photographer. He allowed me to pin them under our high school's notice board, for everyone to see. I was filled with joy when I saw students hopping over each other's shoulders to see the photos. Inside, I knew there was a lot for me to learn. I knew nothing about color photography, didn't know how to develop or print negatives.
I visited the "Point Four" library and picked all the books and materials related to photography and studied them. That didn't actually work because all the books were in English and I didn't know the language. I went to some translators and English teachers. That didn't work either: All the terms were technical. My search for information continued until I read in Popular Photography magazine that there was a correspondence course on photography, offered by the New York Institute of Photography (NYI). The course material was in 50 or so volumes, short and concise, teaching photography step by step. I enrolled in the course, which started from the basics. I had no problem following instructions and did the exercises before sending them over. They would correct my mistakes and return the material back to me. I finished the course but knew that I had to work on my English should I want to become more technically skilled.
We moved to Tehran in 1955 and I went straight to the Agfa Shop. I noticed that my 12x16 prints were hanging on the walls of the shop. I asked Mr. Martin, Agfa's agent in Iran, about the photographer. "You don't know him," he said, "he does a good job of it." I asked where he might be now and he replied that he wasn't in Tehran. I finally introduced myself and told him that I had taken the photos in Kerman and offered to show him the negatives. He said: "Can you come and work here?"
I took the job immediately and worked with Kodachrome films, sending them to Germany for processing.
One day when I had gone to visit a friend at his printing office, I saw someone from the Royal Social Services Organization who was looking for some photographs to be included in a calendar. I told him I had some slides. He asked to see them and then asked about their price. Five Tomans per print, I blurted out. "Are you kidding," he snapped back, "you can easily sell these for 50 to 100 Tomans." This was my first experience selling prints. These were photographs of Kerman and the suburbs of Tehran.
Working at the Agfa Shop was important to me because I was not only learning about color photography but also getting to know professional photographers. I first met Mr. Malek Araqi in that period. The late Mr. Ahmad Mayel Afshar, founder of the Photo Metropol Company, also impressed my life in a spiritual way. He helped me in my personal life as well. When I had to go to England for medical treatment, he bought me a round-trip ticket. "Pay me whenever you have the money," he said. I told him that 3000 Tomans was an awful lot of money and I wasn't sure when I would be able to pay him back. He assured me that there was no rush.
Luckily, on my return I landed a job that paid 10,000 Tomans. "You didn't rob that money, did you?" he asked me when I paid my debt. When he heard the story, he was delighted. This is a tribute to a man who was always supported me.
After that I started working in a construction company near Mehra-bad Airport. I took personnel photos. Not long after, a friend and I heard that an Italian company, Agip Mineraria, working for the Iranian Oil Company, was hiring. We filled out an application. Twenty days later they invited me to work for the company. I stayed there for 4 years doing everything related to photography. When the photography branch went out of commission, I was transferred to the Oil Consortium, where I worked for another 15 years. I gained experience in aerial photography, geology, photomicrography, and, above all, English. I did more than 300 hours of flying along with constant and intense developing and printing work. Feeling exhausted, I quit in 1975 and started my own business. It was at that time that I discovered a 1,021,760 square mile studio – the Iranian plateau. Since then I have spent all my time taking shots from its every corner. Tens of thousands of prints later, there is plenty left to do, and I have yet to record some of the most pristine sceneries of this huge studio.
Deceased.

Black and White, A New Approach::
This is a tiny collection of so-called black and white photographs. Black & White photography has been the subject of many critical analyses the world over. I will add a few points here, hoping that it will be of some use.
It's little more than half a century that colors other than black and white have been introduced to photography. With technological advances, the monopoly of Black & White ended. Color photography, like any new phenomenon, opened the viewer's eyes to magic: the red of flowers, the blue of the ocean and sky, the green in trees and bushes, the golden yellow of autumn. In this process, it has made perspective and form secondary. Perhaps painting has been to some extent responsible for sidelining aesthetic fundamentals.
Whatever the truth, we can't deny the fact that these two carry structural differences. The clever artist will want to make use of these differences. For instance, he can control contrast by applying filters (red, orange, yellow, green, or even different shades of blue) that incorporate various effects (uniformity, distinction, the mystery of the subject) and bring out form over color. The Black & White photographer is after form, the relationship of lines and curves, shades, various lights, regular and irregular shapes, which all take photography closer to art.
Using different lenses, especially the wide lens – which its main function, to me, is the formal deformation of the object – together with darkroom intrigues on film and print paper, takes photography as close as possible to graphic arts in practice. Of course, I am not saying that color photography doesn't contain such potentials, but Black & White really facilitates the way to more interesting results. A photographer who wants to bring artistic effects to light-sensitive paper has a much easier time with the B&W kind. This may explain why many prolific photographers insist on commenting on their B&W works, even when their collections contain as many color photos.
There is also this angle: the excessive use of color, especially yellow and orange, in commercial and public advertisement has, over time, had the negative effect of tiring people's senses. It seems that black and white photography has again drawn many to itself. Perhaps in a few decades even advertisements will be prone to make use of black and shades of gray to find their way to people's hearts. Who knows, maybe soon enough we'll get a chance to see new European and American promotional materials mostly in black and white.

Love and Life in the Photographs of Nikol Faridan
What we call love and amity is that which we have made an intimate part of our lives. Whatever you love or whatever you are drawn to is a part of your life. Nikol loves photography, lives it, and lives with it.
I will write what I think of his photographs, images that have sometimes brought tears to his eyes.
Let me take you through the pages of this book, the way I accompanied this artist on his journeys around the country, and tell you what he has done to the bemusing Nature. Or, if you prefer, see what Nature has done to him.
Nikol is always eager to see the azure sky dotted with patches of downy clouds. He loves to behold mountains under the morning rays, to observe how the wind plays with the desert sands, and to watch sheep grazing the steppes under the golden rays of the sun.
This book is the product of a conference with Nature, and not so much with the people who inhabit it.
The photographer's life is invariably occupied by two concerns: Going on a trip or thinking of it. Nikol is constantly gauging various parameters that could best set him on the road to his rendezvous with Nature: What season, which part of the country, how, or even what hour of the day. Nature speaks to him, beckons him to its joys and refrains. His love for Iran and its landscape has shaped his long years of solitude.
Where does he live? No, don't trust the address he gives you. He lives in Zahedan, Kerman, Isfahan, Guilan, Mazandaran, Abadan, Ahvaz, Zanjan, Oroumieh and Khorasan, or in the middle of the Great Salt Desert! He has a home in all those corners. He may prefer to be in "Goatr" bay, where I found him so blissful, because south of Iran is one of his favorite places to photograph, an indication of the expanse of the desert that runs through his veins.
Nikol's photographs do not simply hunt the beautiful, but recreate it, gives it a new life. And, life means love and love means life to a photographer that witnesses the procreative powers of Nature.
Let's behold his love and life. This is a gift that never loses color, neither for us nor for him.