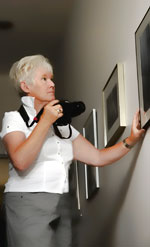 Lynne R. Kelman
Photographer
White Rock, BC, Canada

Member of Crescent Beach Camera Club

Lynne studied photography at the Berkshire College of Art in the 60's.

On moving to Vancouver she has worked in the arts administration field for both the Emily Carr College of Art and Design and as curatorial assistant at the Vancouver Art Gallery.

Lynne is now retired and pursuing her love of photography with the Crescent Beach Camera Club. She is busy and active, serving on the executive committee of the club and is the Advertising Manager of the Pacific Zone News, BC's CAPA photographic newsletter.

Lynne has moved on from film and slides and has embraced digital photography using a digital SLR Nikon camera. Lynne prints, mattes and frames all of her own work in her digital darkroom.

Her photographic style is varied, with particular emphasis on landscape and travel.

Lynne has recently exhibited and sold works in exhibitions at the White Rock Museum, Surrey Art Gallery and at Darts Hill Gardens. Her work is displayed at locations around the lower mainland, and her articles and images have been published in a local BC magazine and Canadian Camera. You can view her work online at the below web addresses.

Lynne has recently completed the "Fit to Judge" course put on by the Canadian Association of Photographic Arts and is an accredited photographic judge. Lynne gives lectures on photography locally.