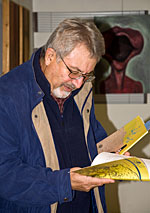 Ismail Farahani
Photographer
Canada

A Kodak Brownie camera that I received, when I was ten years old, very soon made me the official family photographer.

My serious cameras between the ages of 17-22 were Pentax SV, Rollie T and Mamiya TLR.
At this point I became very interested in art. Visual art became my medium of choice. I started painting and it became a perfect complement to my photography.

From the age of 22, I switched over to Nikon cameras and system. This partnership is still going on. Besides Nikon systems, at present, I am using various medium format cameras and a 4x5 sheet film.

At first, I became fascinated with different aspects of photography and later on the creative aspects of it motivated me to pursue it from different viewpoints.

During the 60's in Iran, I worked in the movie industry in the special effects department, as a still photographer and a cinematographer.
In 70's and 80's, I worked as a technical support staff to the faculty and students in the film department at SFU for 10 years.

Although I shoot digitally, I still enjoy using film – and the darkroom has a great place in my heart. I use two enlargers, process my films and make black and white and Cibachrome (now Ilfochrome) prints.