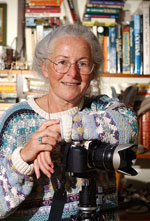 Ursula Easterbrook
Photographer
Tsawwassen (Delta), ON, Canada

Ursula Easterbrook, FCAPA
Born: Augsburg, Germany
Citizenship: Canadian
Residence: Tsawwassen (Delta), BC
Equipment: Canon, Tamron, Sigma

Photographic Awards:
artShots 2010 – Best in Show
artSpacific: Honourable Mention – 2002
LGCC: Innovation Trophy – 2001
LGCC: Photographer of the Year
CAPA: Freeman Patterson Award – HM
Delta – People's Choice,
Lots more

Exhibits: Throughout Delta
Craft Markets: Delta
Private world-wide collectors – and Delta Municipal Hall

Photography Background:
Self-taught, courses at Focal Point, Independent workshops w Frans Lanting, John Shaw, Freeman Patterson

Awarded:
Certified CAPA Judge,
Fellow of the Canadian Association of Photographic Art
CAPA Honours: Certificate of Photographic Achievement

Teaching:
Renfrew Park Community Center – Beginners photo course with other club members, specializing in Nature and Travel sessions: 1998, 1999, 2001
South Delta Arts Council – demo of polaroid emulsion transfer technique, 1998
GVRD Parks – series of 5 sessions/workshops of Nature photography in the Parks.
Birds in Focus – Nature/Bird Photography Workshops: yearly 2005 to 2011
Workshops and Tutor for photo clubs

Shows:
Digital and Slides shows – travelogues and ProShow Gold on many countries, including the Antarctic.

Judging
Frequent judge for Lower Mainland photography clubs, Provincial/National/International competitions and specialty competitions: eg APAC Competition, VIMFF

Artists Statement:
I started making pictures with my Mother's camera when I was quite young (and small), in post-war Germany – black and white, of course. Once in Canada, I got a Brownie and eventually switched to colour prints then slides. I took photography in high school and even became the president of the camera club. But my main love was painting.

Now, Photography is my hobby, my passion and my way of managing stress; photography gets me into nature, into the company of like-minded individuals and to other parts of the world. To put it another way: photography is my addiction (a lot less expensive now with digital!).

I love the adventure of following my impulses to different parts of the Lower Mainland, BC, Canada, North America and the World to make my photographs.
I enjoy sharing my hobby, techniques and impression of the world with other people: through teaching, exhibitions, salons, competitions, shows, presentations and the production of painterly prints as, well as greeting cards.