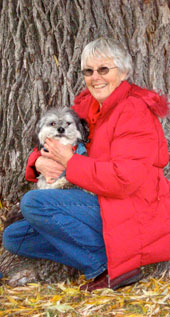 Ruby Jaggernath
Photographer
Abbotsford, BC, Canada

Ruby enjoys both writing and photography. She enjoys seeing the world through a camera lens, and finding new perspectives on every day images. She focuses on scenes from Canada, particularly British Columbia, where she photographs everything from spectacular scenery to wildflowers and pond life.

She received her first camera, a Brownie, in the early Fifties, but did not become seriously interested in photography until the mid-sixties. She borrowed a library book and taught herself to use her husband's 35 mm camera, so she could take pictures to complement free-lance articles.

In the late Seventies, she bought her own camera, joined a local camera club, and was on her way. Soon, she was using photography to supplement free-lance writing. She has been published in a few magazines, and written two small children's books illustrated with her own photographs.

Ruby was a late comer to the digital world and is still struggling with Photoshop, an essential tool to achieve the saturation and vibrancies she used to get from slide film.

She makes and sells whimsy cards as well as selling the occasional enlarged image. As she is retired, most of her writing is now voluntary work.