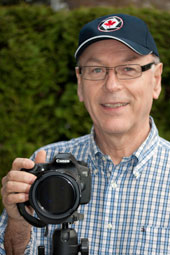 Larry Breitkreutz
Photographer
Vancouver, BC, Canada

Larry Breitkreutz, M. Ed., FCAPA, CCJ

Alongside a career in education and business, Larry has been an avid photo enthusiast for over 30 years. He enjoys the inspiration and challenge of all types of artistic images, whether created with the camera, with software, or with brush and paint. With his camera and computer software he creates impressionistic images of a world often overlooked by the casual observer.

Larry is a Certified CAPA Judge and is called upon frequently to critique and judge images in various competitions, both local as well as international. He has been honored with the CAPA Fellowship (FCAPA) designation, and is actively involved in promoting photography throughout the region.

He serves the photographic community as the Director for the Pacific Zone of the Canadian Association for Photographic Art (CAPA), and is an instructor in photography for the City of Surrey - Recreation.