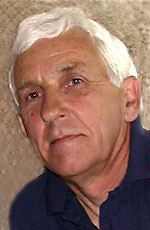 Jim Hoskins
Photographer
Salmon Arm, BC, Canada

I am from North Vancouver. I graduated from High School there, including Grade 13. Before there were colleges. I worked for the telephone company in three trades, and as a design technician. I retired after 36 years, and now live in Salmon Arm, BC.

I have always been interested in photography, in documenting and interpreting things that interest me. I started to do a few photos in my early teens, using my mother's little Kodak. In 1979, I decided to be more serious, so purchased my first SLR. I was encouraged to attend courses at the local high school, at night, and from there to join an amateur photography club, the North Shore Photographic Society.

Within the amateur sphere I took more courses, did seminars, learned with my peers, and entered competitions and salons. Eventually I was president of the club I still belong to, the Shuswap Photo Arts Club. I began to take more training to be a judge, with CAPA and PSA, and I am now certified with both groups.

I don't compete as much now, I am involved as a judge, do critiques, teach, and act as a mentor.