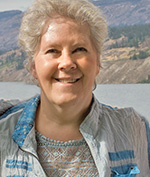 Carol How
Photographer
Canada
Born and educated in Calgary and always a dreamer; she became passionate about photography after a move to Lethbridge Alberta. There, the vast prairie spaces, and the towering mountains of nearby Waterton and Glacier parks, sparked a lifetime obsession with photography.

She joined the Lethbridge Photography Club, where she learned some basics of darkroom black and white film developing and printing as well as participating in several group exhibitions. She served on the executive in the Lethbridge Photography Club, as well as one term as President.

After moving to South Surrey in 2001, Carol became a member of the Crescent Beach Photo Club and CAPA. She has served as CAPA Rep and Vice President for the Crescent Beach Photo Club and is an active member both with the club and with the photography community.

Earlier in her CAPA membership years, Carol received Freeman Patterson Certificates as well as Hoffman Trophy and Elder Trophy Certificates through CAPA competitions.

To further her education, Carol has completed photography courses in Vancouver's Langara College Photography Certificate Program, in addition to many other workshops in the lower mainland.

Carol has worked as a freelance photographer for the South Surrey White Rock Chamber of Commerce as well as the City of Surrey and has exhibited her work in many venues throughout the lower mainland. A set of 8 her images were recently purchased by the City of Surrey and are now in a permanent traveling exhibit. Her images have been purchased by corporate and private art collectors.

Carol is very passionate about photography as an art form and an expression of self. She has developed an abstraction and fine art styling which, is evident in most of her work.

Contact: carolhow (at) shaw dot ca
flickr

A Journey
The portfolio images represent recent experimentation with long exposures and in camera multiple exposures. In part this portfolio arose from my inherent attraction with graphic forms; humanity, drama; and the compression and extension of space.

These images are straight (as in: there aren't elements removed, or rearranged, or added, except for cropping).
Post processing is done via Adobe Camera Raw with additional contrast, dodging and burning in PS6.

Although this particular journey began with street photography, as all things do it is gradually morphing. Its morphing in other directions.

I thought it would be fun to show the gradual shaping and experimentation of this part of my photographic journey, even though, at any given time I was not totally aware of the path.

You could call it a Journey. Its one of many journeys we take in our search for our own selves.