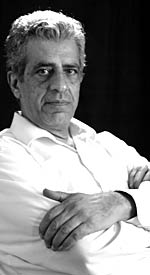 Farhad Azizi
Photographer
Iran

Farhad Azizi
Born in 1949

Exhibitions
- Second Annual Photo Exhibition-Competition CPC/CAPA, October 2007, Tehran
- First & Second Annual Photo Exhibition CPC/CAPA, Sulaymania, Kurdistan, Iraq, Nov. 20-25, 2007
- First & Second Annual Photo Exhibition CPC/CAPA, Seymour Art Gallery, North Vancouver, Canada, May 8-29, 2008


I got BA in Sociology in Tehran and MA in Education in USA. At present, I'm working on my PhD in Education via Internet.

I became familiar with photography, when I could have permission to work with my father's old Wouglander 6X7 camera; I still have this camera.
I took some free photographic courses during the years 1976 in UK and 1978 in USA.
During 1980-87, I worked with Agfa-Gevert Company in Iran, so I know many Iranian professional and amateur photographer. In the meantime, I became familiar with both Agfa and Gevert products as well as other competitors as Kodak, Ilford, Fuji...

Besides photography, I became very interested in chemical aspects of photography. In this respect, I made simple silver photo sensitive emulsions together with different developers for different requirements as well as non-silver photo sensitive materials.

For the last 10 years, I became a camera collector. At present I have 75 cameras, among them a Gold Leica! I'm happy with them.

Since 1988, I am busy teaching Photography, History of Photography, Chemistry of Photography, Chemistry of Lithography, Printing Press and History of Art in different universities in Iran.

In 2005, I began to go on with digital camera, starting with Fuji S9000 and later Lumix ZF50.