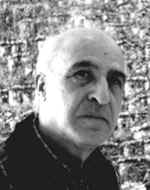 Manuchehr Niazi
Painter
Iran

Born in 1936, Tabriz, Iran

Manuchehr Niazi started painting in 1953, producing a whole range of works during these years, in Iran and abroad, as master painter in national and international levels.

All along his career, there was no moment of separation between him and art of painting. The objective, according to the painter, was the achievement of professionalism in the art, which artist continues to seek for his life and doesn't see any end to it. To him, artist's thought and imagination go through stages comparable to the conception and growth of an embryo and birth of infant.

Niazi is loyal to his particular technique and tries to create independence and without limiting himself to it. Working outside of the boundaries of limited technique is considered as keeping pace with the nature and the times.

Naturalism is the most prominent aspect of Niazi's works and artistic creativity. He looks for and selects his art from forms among the natural forms. To complete some of his works, he use collage as supplementary technique and going into undisturbed nature when in tranquility, and adopting collage when in moments of eruption and creation. In his works, nature is simplified to the extent that looking at one of his landscapes means surrendering oneself totally to the fantasy.

A number of his works have been created under direct inspiration from classic musicians as Beethoven, Verdi, Mozart and Johannes Straus.

Major activities in Iran
Establishment 0f Niazi Art Gallery (1967-72) in Ferdowsi Sq., Tehran
39 individual and group exhibitions were held by Iranian and foreign painters.

Establishment 0f Niazi Art Gallery (1972-77) in Abbas-abas St, Tehran
52 individual and group exhibitions were held by Iranian and foreign painters.

Foundation of Art Bazaar in Laleh Park, Tehran, in collaboration with Iran Radio & TV, Tehran Municipality, Seyhoun and Niazi Galleries, where the works of 82 contemporary painters were presented to the public.

Establishment 0f Niazi Art Gallery (2001) in Mohseni Sq., Mirdamad Blvd., Tehran

Until 2003, Niazi has held more than 67 individual and 163 group exhibitions in Iran, London, Paris, Zurich, Australia, Tokyo, Istanbul, New York, California, Chicago, Boston, Washington DC, Florida, Miami, Pennsylvania, Connecticut, Virginia, Philadelphia, Philadelphia, Kentucky...