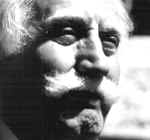 Mahmoud Farshchian
Painter
Iran

Born in 1929, Isfahan, Iran

He learned painting in "Hajj Mirza Aqa Imami" and "Isa Bahadori" school.

After finishing "Fine Arts School", he went to Europe and stayed some years for learning arts of painting and researches in museums.

In his return to Iran, he taught painting and miniature and also started to create his masterpieces. He taught in "Art & Culture Ministry" and "Fine Arts Faculty". For a while, he was the manager of "National Arts Office".

Up to 1980, he had 37 single exhibitions and 32 group exhibitions all over the world. His works were published in books, also. His second book, with 110 pictures, 40x26 cm (16x10 in), took about 15 years of his life.
He had also researches on Persian Rug and some of his paintings were woven in fine gold rugs.
He has created a serious of paintings on Quatrains of Khayam.

His mysticism is shown in his miniatures, one of the bests in contemporary art.
He has won many international awards and now, he is a resident of USA.