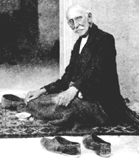 Kamalolmolk
Painter
Iran

Mohammad Qaffari
Born in 1848, Kashan, Iran
Deceased in 1940, Neishabour, and buried besides "Attar's Tomb"

1863: Came to Tehran.
1883: "Government Camp in Sorkheh Hessar" painting
1884: In the second trip of Nassereddin Shah, he was with Shah and received "Mirza Mohammad Khan" title.
"Farman Khan" painting
1885: Married with "Zahra", sister of "Meftaholmolk"
"Nasserolmolk's Son" painting
1886: "Twin Falls in Pas-Qaleh" and "Doushan Tappeh Ave." paintings
1887: "Sorkheh Hessar", "Naserieh Building", "Homayoun's Camp", "Golestan Building" and "Golestan Garden" paintings
1888: "Emame Village" (a village located in the west of Tehran) painting
1889: He received the "Naqashbashi" (Painter) title from Nassereddin Shah
1890: "Zanousi Valley", Baqshah Horse-race" and "Molavi" paintings
1892: "Uncle Sadeq, guide of birds' cage, with Jewish Frippers", "Two Poor Girls" and "Canary and Cat" paintings
1893: "Baqdadian Geomancer" painting
1894-1936: "Mirror Hall" painting, his biggest and the most elaborate work
1894: He received "Kamalolmolk" title from Nassereddin Shah
1898: "Egyptian Shoemaker" and "Rembrandt" paintings
He went to Europe for visiting museums and to learn more on painting, after Nassereddin Shah's murder.
1899: A self-portrait and "Tiben's" portrait, in Europe
1900: Designed a bored woman; Copied "Saint Matious Portrait" (Rembrandt) and "Jonah", in Europe
1901: "Paris Poultries Bazaar" and "Fountain la Tour" paintings
1902: In Paris, Mozaffareddin Shah asked him to come back to Iran and he did.
1903: "Mozaffaeddin Shah" portrait and "Baqdadian Goldsmith and his Shop boy" painting
He had a travel to Mesopotamia and lived there for three years.
1904: "Karbala" and "Sleeping Arab" paintings
1906: "Jewish Baqdadian Geomancer" painting and a self-portrait, in his return from Mesopotamia
1912: "Hajj Seyed Nasrollah Taqavi", "Hajj Aliqoli Khan Bakhtiari (First Sardar Asad)" and "Azedolmolk Qajar" portraits
1913: Established "Fine Arts Faculty"
1915: "Zokaolmolk" and "Abolhassan Khan Forouqi" portraits
1917: "A Village in the North of Damavand" painting
1919: "Vosouqoddoleh" portrait
1920: A self-portrait
1924: Two self-portraits and "Moqanak" scenery
1925: "Tochal" scenery
1927: "dead Partridge" painting; "Nasser" (his servant) portrait
1928: He painted his last self-portrait in "Fine Arts Faculty".
1930: He resigned from "Fine Arts Faculty".
1933: "Ferdowsi Statue" painting
1934: "A Mountain Painting" and "Sleeping Old Man" paintings, which didn't finished, because of his eyes troubles.

He had also some other works, which its dates are not defined:
"Rustic Cottage"
"Piscina of Golestan Building" and "Christ Burial"
"Sanioddoleh" portrait
"Shahrestanak Building"
"Portal of Golestan Palace"
"Government Tekyeh" (Tekyeh Dolat)
"Hakimolmolk" portrait
"Piscina of Sahebqaranieh"
"Alchemists"
"Musical Players in Nassereddin Shah Period"
"Soltanabad Garden"
"Mary" portrait
"Bared Man"
"Sunset of Shemiran"
"Calligraphist"
"Alborz Mountain" scenery
In these years, a rug with his portrait design was woven.