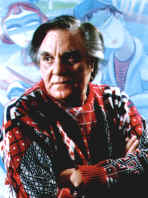 Jazeh Tabatabai
Painter
Iran

He started writing and literature works, when he was twelve and has more than 40 volumes contain folklore stories, novels, poem, art critic and plays.

before university, he also published a newspaper; then, he became more interested in directing, dramatic art, ballet, as well as painting and sculpturing.

He was the founder and director of Iran Modern Art Gallery.

His works have been exhibited in Australia, China, England, France, Germany, Greece, India, Iran, Italy, Monaco, Spain, Sweden, Turkey, USA and Yugoslavia.

His works were featured in Paris, San Paolo and Venice Biennales and have been awarded more than 10 international prizes.