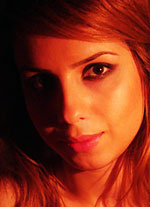 Fatemeh Taheri
Painter
Iran

Born in November 1, 1988 in Tehran, Iran
BA in Painting, University of Guilan, Iran

Exhibitions:
Group Fair, Art and Architecture Faculty of Guilan, 2008 & 2009
Group Painting Exhibition, Caroun Art Gallery, Vancouver, Canada, November 2011


I studied graphics at high school and painting at the university.

My city is my distress. Not only the city that I was born, all cities of my country. My country! The country, in which if everything is going like this, I will not be able to draw anything on the canvas just black color.

My prime thought came up from the city plans. It has been changed gradually by using various colors and tools, so that I reached my desire form. This combination shows my inner feeling, and in most cases there is a large distance to city plans.

If you find my work in grey color, it is not my city pollution that most people may have such interpretation at the first look. In fact, it is my suffering mind of the society influence, which made me able to see everything in grey. Most of the times, I tried to use more cheerful and a live colors in my work, but finally it has been covered by grey.

Perhaps there is no cheerful color in my country that is why we can never see the nice colors around. Hence, this happiness always would be hidden by seeing the pains that would be suffering for my mind, so the best way to escape from this so big pain is being far from my city.