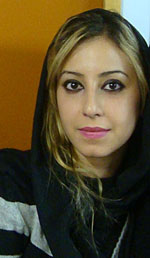 Azadeh Khalaji
Painter
Iran

Born in 1989/1/12, Iran
BA in painting, Art Faculty of the University of Guilan
Studied Graphic Design at high school
She started painting in 2004, and since then, she has been working professionally.

Exhibitions:
- Group Exhibition, Guilan, 2008
- Group Exhibition, Caroun art Gallery, Vancouver, Canada, November 2011
- Group Exhibition, Port Moody Art & Cultural Centre, Port Moody, Canada, April 2012
- Group Painting Exhibition, Caroun art Gallery, Vancouver, Canada, October 2012

It is hard to translate an image to a word. I do show my feelings of my environment, conditions and events around by the impact of my brush. The harshness of my brushes in some of my paintings is the result of the violence I felt in my life or others lives around me, which has been reflected into my paintings, as I do painting as the way I live and these are not separated from each other. Perhaps this is a way to vacate all this violence. My colors are mainly used in Iranian architecture, such as Orsi windows, textiles; the colors I see around the city; sometimes bright colors, sometimes dark or gray. Models in my paintings are mostly villagers and workers.