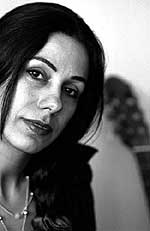 Zoya Tavakoli
Painter
Shiraz, Iran

Zoya Tavakoli was born in Shiraz, Iran. On the long way of building up her own personal style in painting, Zoya was greatly benefited and deeply influenced by lessons of the two well-known artist of her country, Irandokht Mohasses and Mohsen Vaziri Moqaddam. She started her serious engagement in 1985.

She attended some painting courses at University of Soureh in Shiraz, where she instructed fundamentals of painting for two semesters later.

Since 2012, Zoya Tavakoli held long-time workshop for children and young adults of her town and led them to win international prizes. Zoya considers this experience of working with children very fruitful and inspiring that fostered her attitude and abled her of exquisitely visualizing her momentary impressions.

Zoya Tavakoli was a juror at Cinewest Short Film Festival at Sydney, Australia, 2008.

Memberships:
- Iran Painters Society
- Federation of Canadian Artists
- Caroun Art Gallery

Solo Exhibitions:
- 2007, Haft Samar Gallery, Tehran, Iran
- 2006, Saraei Gallery, Berlin, Germany
- 2005, Haft Samar Gallery, Tehran, Iran
- 2005, Gallery Zeitzone, Berlin, Germany
- 2005, Private Exhibition at the her home-garden, Shiraz, Iran
- 2005, Asiab Gallery, Tehran, Iran
- 2005, Private Gallery, Ankara, Turkey
- 2005, Atbin Gallery, Tehran, Iran
- 2004, Department of Iranian Studies, Berlin, Germany
- 2004, Tandis Gallery, Shiraz, Iran
- 2003, Zinat al-Molk Gallery, Shiraz, Iran
- 2003, Private Exhibition at the her home-garden, Shiraz, Iran
- 2002, Aria gallery ,Tehran

Group Exhibitions:
- 2018, Summer Group Exhibition, Caroun Art Gallery, Vancouver, Canada
- 2018, Spring Group Exhibition, Caroun Art Gallery, Vancouver, Canada
- 2014, Image Gallery, Shiraz, Iran
- 2013, Queanbeyan Multicultural Centre, Canberra, Auttralia
- 2012, Co-exhibition with Timo Nest, Niayesh Gallery, Shiraz
- 2011, Queanbeyan Art Centre, Cannbera, Australia
- 2010, M16, "Others Worlds": Zoya Tavakoli, Timo Nest & Tan Haur
- 2009, Golestan GALLERY: "100 Works 100 Artists", Tehran, Iran
- 2002, Medical School, Shiraz, Iran
- 2002, Vesal Gallery, Shiraz, Iran
- 1998, Melli Gallery, Shiraz, Iran
- 1988, Tarh Gallery, Shiraz, Iran
- 1975, Amir Kabir Art Gallery, Shiraz, Iran

Festival:
- 2019, Interntional Bienal de Arte Barcelona, MEAM Museum, Barcelona, Spain
- 2019, North Shore Art Crawl, North Vancouver, March 2019
- 2018, Celebration of CAG's 9-Year Art Show, Caroun Art Gallery, Canada
- 2017, biennale de arte conteprorane della Brianza
- 2017, Florence Biennale
- 2015, BGORE KI HAVELI Museum Udaipur, RAJESTAN, INDIA
- 2014, "momenti magici", Rotary Club, Bolonga, Italy
- 2009, M16 Gallery, Canberra, Australia
- 2008, Harvesting Festival, Immigration Office Hall, Canberra, Australia
- 2008, "Iranian Artists Exhibition", CANBERRA Festival, Australia


About Zoya's Works
by: Roy Forward, 2008

Zoya Tavakoli is a painter from Shiraz, whose works are miracles of mark making. Some show small shapes on a plain white background, others have layers of paint marks, covering the whole surface. The smaller shapes often occurs in pairs, so that one is occupied in looking from one to the other, so alike but so unlike, to see whether a faint hint in one of something in the real world (a clay pot, a bird) can be detected in the other. Usually it cannot, because although it is possible to say that the surfaces in one work resemble those in ceramics, say, or feathers, one has to end up concluding that one shape in any work carries a real likeness to anything else at all.

So these are abstracts, but that is generally to understate their astounding variation and complexity, and their uniqueness. Occasionally there is an echo of another artist, but in no sense of imitation or homage; it is just that one has been something like that scribbling in wet paint with the wrong end of the brush in Zeng Fanzhi, or that slabbing on what look like thick layers of paint (but no closer inspection turns out to have almost no thickness at all, such is the success of the illusion) in Jean Fautrier.

Colours and shapes sit side-by-side, dissolve, blend, streak, spatter, resist each other, clash, are squeegeed. Each work is unified by a family of shapes, techniques and colours, so that a viewer can look from one instance of a signature motif to compare, contrast, enquire into and muse over others like it in the same work.

The abstraction also does not stop the mind from seeing resemblances, albeit far-fetched. The overlaying and juxtapositioning of brushmarks often create an illusion of three-dimensional depth, through contrasts in tone, colour or texture, so that one can imagine venturing into a maze of underground caverns, or peeping through thick undergrowth, or being blocked by a tangle of thick stands. The marvel is that the discoveries often border on the microscopic, so that one is pointing out a similarity to a little green tent or a human-like figure in something 2mm high, while trying to work out whether the delicate tracery was achieved deliberately with a fine brush or was just a happy accident.

For this is a big part of the attraction of Zoya Tavakoli's painting, when one gets up close and looks into them: The puzzling about just how she made them. Usually it is apparent that a brush as been wielded, and sometimes paint has been thin enough to pool at the bottom of a brushstroke, but quite often one has been at a loss to settle on whether the medium has been oil paint or watercolour, only to find out that is in fact all acrylic and ink on paper.

The artist, who has had exhibitions in Shiraz and Tehran, as well as in Berlin and now Canberra, credits Irandokht Mohases and Mohsen Vaziri Moghadam with helping her discover the world of art, but it seems to me that with a love of painting since childhood and much hard work, it is true, as she claims, that she has discovered a personal way of painting, which is unique to herself, and quiet miraculous.