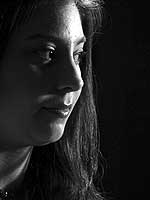 Dorre Araki
Painter
Iran

Dorre Araki
Born in 1985, Mainz, Germany

She studied in Iran, Pakistan and Russia. She was educated in Interior Design at the Art College of Astrakhan in Russia in June 2005.

In addition to her main subject as interior designer, she has worked and she is working in designing, graphic design, painting, music (piano) and photography. Dorre desires to continue her studies in sculpture.

She knows Russian language perfectly and she speaks, write and read it very well.