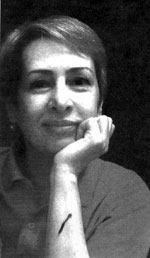 Jahan Inanloo
Painter
Canada

Jahan Inanloo was born in Orumieh, Iran, to Turkish parents in the northwest part of the country. She studied archeology at the University of Tehran.

She is an accomplished artist, art historian, critic and writer, having written "Historical Persian Art" (1995), publishing in three editions.

She worked as a curator at "Razavi Museum" in Meshed. There she's illustrated and illuminated holy script and has restored historical artworks. Later, she's worked at the "Malek Museum" in Tehran.

As a lover of traditional art, Jahan sought out many artists, who were unknown, and learned their fascinating and complex techniques that she described in "Historical Persian Art". She admires the purity of their stories, and her artwork recalls traditional Persian ceremonies, and the subject matter of marriage, love and everyday life.

She's participated in more than 10 group exhibitions in Meshed, as well as some at "Zaferanieh Gallery" in Tehran.

Her first exhibition in Canada was held at Caroun Art Gallery, 2010.