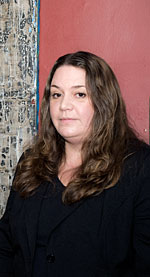 Sian Piper Woodward
Painter
North Vancouver, BC, Canada

Sian Piper Woodward is a visual artist who works out of her studio/business. The Graffiti Co. Art Studio/Gallery is located on the scenic shore of North Vancouver, BC Canada. Sian has always loved drawing and working with her hands, she has been creative since early childhood. Formally Sian pursued visual art as a career in 1984 at the University of Regina. Art was always around her and she received much encouragement from her father, (a well know Saskatchewan landscape painter and a local art educator) and sister Shelly Page. (Who is a accomplished landscape painter, owner operator of a faux finishing business and instructs art classes) Although her father always encouraged her to make art, he discouraged her from studying art, for he knew too well the difficulties a life in the arts presents. Sian went on to study Fine Arts at the University of Regina. She studied Drawing with Professors Frank Nulf, Art Mackay and Jack Sures. These professors instilled in her the idea that a strong foundation in Classical Drawing benefits an artist no matter what media or format they chose to work with later. They taught her that in art you it helps to know the technical rules before you go trying to break them. Professors Leesa Striefler and Jack Anderson taught her how to take an artistic concept and run with it through its completion and to maybe break a few rules. Sian is very grateful for the knowledge passed on by her professors.

As Sians artistic pursuits advanced, she further continued her studies in Mixed Media at the University of Calgary. There she had the privilege of working with Professors John Will, Paul Woodrow, Jed Irwin and Rae Arnatt. In 1991, she received a Masters of Fine Arts in Mixed Media. Sian felt very fortunate to be able study under these professors, also for the friendship and support of Carol MacDonnell. After graduation, time was taken to travel through France, Italy, England and Asia, There Sian experienced some of the art and architecture she had learned so much about in Art History. She felt it to be a truly unique experience, viewing first hand, the art history of these regions in real life.

Sian then moved to British Columbia, after settling, she decided to open up her own studio. She carefully chose a location that would benefit and inspire her as an artist. In 1994 the decision was made, North Vancouver would be the ideal location. With its historic atmosphere and stunning scenery, Sian felt a sense of the past being close at hand. Here it was that she found a truly inspirational place for her to continue her work as an artist.

From 1997 to 2003 Sian shared studio time with Graphic and Visual artist, Sia Kaskas. Having another artist around to get input on ideas, gave her a fresh look at the artworks. She felt it really benefited her work as an artist. Sia also taught her a great deal about graphic design. Sian felt that they both influenced each others art over the years in a very positive way. Having met many other talented artists during her time at the studio, she changed it to a gallery venue. Public could now come to view, and purchase unique artworks by diverse artists. It was also a good opportunity, to stay in touch with other local and some international artists. Now currently at the studio Sian holds monthly art exhibitions, produces her artworks, gives private art consultations and classes and does commissioned artworks for clients.