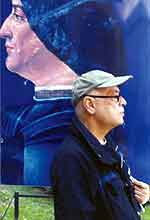 Yahya Fiuzi
Architect
Iran

Yahya Fiuzi was born in Meshed, Iran. He completed his education in Architecture and Planning at Tehran University in 1966. Thereafter, he worked with Abdol-Aziz Farman-farmaian.

In 1971, he founded a partnership by the name of The Mandala Collaborative. Mandala established a series of joint ventures with the offices of Skidmore Owings & Merrill, George Candilis and WMRT, Wallace, McHarg, Roberts & Todd Architects. From 1977 to 1980, Yahya Fiuzi served as president of the Shamseh Collaborative. He has been Principal Architect in ventures internationally, including Fiuzi, Brendler Dove, Fiuzi Lance Larcad & Bechtol, San Antonio, and FSI Design Group with Philip Johnson, Washington DC. Presently. At present (2006), he is the Principal of Yahya Fiuzi AIA & Associates located in Tehran, Iran.

Yahya Fiuzi's portfolio includes small and large scale projects ranging from residential/mixed-use and urban planning, to concert halls, cultural centers and performing art centers. He works on projects internationally, with emphasis, presently in Tehran.

Yahya Fiuzi is the creator of a comprehensive geometry of numbers based upon Magic Squares. His work has been displayed as an interactive and traveling exhibition sponsored by the National Science Foundation (NSF), Mathematical Association of America (MMA), American Architectural Foundation (AAF), Smithsonian Institute and the Association of Science Technology Centers (ASTC). Most recently, Yahya Fiuzi's work in Tehran has included the Tehran International Conference Center and Farabi Performing Art and Cultural Center; both projects are of landmark value. He is a member of the American Institute of Architects, Mathematical Association of America, Iran Acoustician Society, Iran Syndicate of Consultant Engineers and Caroun Paint Club. He has been a participant invited to join biennales in Venice and served on the jury for the Tehran Biennale.
Yahya Fiuzi currently (2006) resides in Tehran, Iran.

Education
Tehran University, Bachelor of Science 1961
Tehran University, Masters of Architecture 1963
Tehran University, Planning Courses (PhD) 1966

Eeperience
Yahya Fiuzi AIA & Associates, Principal, Tehran, Iran, Present
Yahya Fiuzi, AIA, McLean, Virginia, 1992-Present
Architect Planner Consultant, FSI Design Group, Fort Washington, MD, 1988-1992
Principal Design Partner, Yahya Fiuzi & Associates, Paris, France, 1985-1988
Principal, Insha Co., San Antonio, TX, 1980-1985
Director of Development, The Shamseh Collaborative, 1977-1980
President, The Mandala Collaborative, 1971-1977
Principal, SOM/Mandala & W.M.R.T./Mandala, Tehran, Iran 1972-1976
Principal, Abdol-Aziz Farmanfarmaian, Tehran, Iran, 1966-1971
Associate Partner/Project Manager, Plan and Budget Organization, Tehran, Iran, 1962-1966

REPRESENTATIVE PROJECTS
Projects Outside Iran
The Place, 120 Acres Mixed-Use Development, Waldorf, MD
Kensington performing Arts Center, Mormon Temple, Washington, DC
180 Acres Hourghada Tourist Center, waterfront Mixed-Use Development, Hourghada, Red Sea State, Egypt
260 Acres, Clarksburg Public Golf Course, Special Exception/Zoning, Montgomery County, MD
Chapman Landing, 2,500 Acres Waterfront Mixed-Use Development, Charles County, MD
Ponwood 28 Town Houses, Madison, Wisconsin
Quantum 40 Acres 370 units Residential, San Antonio, TX
Safa City, Mixed-Use Development, San Antonio, TX

Projects in Iran
Farabi Performing Art & Cultural Center, Tehran
Tehran International Trade Center
Tehran International Conference Center
Museum of Cinema, Tehran
Pars Oil Offices, Headquarters for Oil Industry Investment Company (OIIC), Tehran
Zafaranieh Residential Complex, Tehran
Farmanieh Residential Complex, Tehran
Historical Restoration of 450 Year old Ice Store to a Recital Hall, Kerman
Central Club for International Bank of Iran with Chase Manhattan Bank, Tehran
New Town, (70,000 habitants) for NPEO, Isfahan, Iran
University of Bu Ali Sina for 15,000 students, Hamadan
Tehran Center for Management Studies with Harvard University, Tehran
Tehran Creative Arts Center & Children Museum for the Intellectual Development of Children and Young Adults
Tehran Center for the Performance of Music
New Town, (200,000 habitants) for Iran and Japan Petrochemical Industries, Persian Gulf
Ministry of Agriculture, Tehran
Olympic Stadium (100,000 seat) and Sports Complex, Tehran
Pardisan Environmental Park & Science Museums, Tehran

Participation in Related Areas
Creator of Comprehensive Geometry of numbers based upon Magic Squares
An Interactive and Traveling Exhibition sponsored by the National Science Foundation (NSF)
Mathematical Association of America (MMA)
American Architectural Foundation (AAF)
Smithsonian Institute and the Association of Science Technology Centers (ASTC)
Art works were exhibited at Galleries, museums and Biennales
UNICEF has selected 10 pieces, entitled Magic Squares for print by 1996 as Greeting Cards
Selected Architect for Venice Biennale of Architecture
Selected Architect for Aga Khan Award in Architecture
Registered Architect – TX, WI Registered Interior Designer – TX
Member of Board of Trustees, Tabas Earthquake (Revival of The Historic Town of Tabas with UNESCO)
Served on Numerous Committees and Commissions as an expert witness for zoning in VA, MD, TX, WI, and Iran for clients
Agent and Advisor for Mayor of Tehran and Chaney Enterprises, Charles County, MD
Chairman of TIBI, The Tehran International Biennale of Illustration (Nov. 1993)
In collaboration with Library of Congress: Organizer and Coordinator of European and American Authors, Artists and Experts in Children Literature for TIBI.