---
"
Caroun Photo Club
" (CPC) is going to hold the "First CPC Annual Photography Salon 2006" in Tehran, Iran. This Competition is open to the individual photographers in Canada and worldwide (International), Professional and Amateur photographers!
Participants MUST be a member of CPC or CAPA, and their membership should not be expired until December 2006. Photos will be judged by 3 jurors, selected by CPC, and the announcement will be final. Participants could attend the judgment. Guide for membership is available on CPC website at:
Membership
CPC will have the right to publish photos anywhere in any form (magazines, bulletins, Internet, slide show…), but the copyright remains for the photographer. A slide show will be made with these photos.
All the photos MUST have a "Title". "No-Title" photos are not accepted. Photos of previous CPC competitions are not accepted too.
Slides, Negatives or Digitals (Black & White or Color) are accepted. Each Photographer could send maximum 4 photos. Photos could not be changed.
Subject
of the competition is "
Photographic Art
", and the theme is
OPEN
. Following subjects are not accepted: Religious / Political / Photojournalism / Family Photos
An exhibition of all the Photos will be held at "Haft Samar Gallery" in Tehran, Iran. A permanent virtual exhibition will be posted at CAC/CAG websites.
All the participants, who did anything out of the rules, will be canceled from the competition, without any notice, even if he/she is among winners, and the prize will goes to the next person. Fees are not refundable.
This announcement will have changes before the judgment, without any announcement. Participant could check it on CPC website themselves.
Competition
Participants should send their printed works along with a high resolution digital file. Just 12"x16" (30x40 cm), 12"x18" (30x45 cm).
Deadline:
August 22, 2006
The application of the competition should be filled out for each photo separately and fixed at the back of the photo by paper tape.
One "Artist's Waiver Form" should be filled out for each photographer too.
Prizes: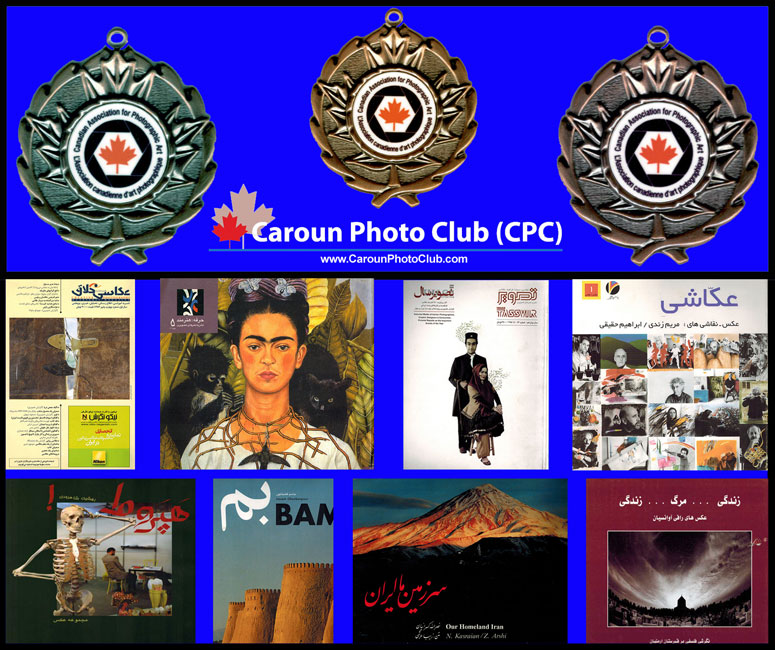 WINNERS:
Five Winners will receive:
- CAPA Gold Medal (
Canadian Association for Photographic Art
)
- CPC Certificate
- one year subscription of "Profession: Artist" magazine (4 issues)
- Photography Books
SELECTED WORKS
Three selected works belongs to 3 photographers will receive: - CPC Honorable Mention
- "Rouzi Rouzegari" Photography Book, by Nazar Pub
- Photography books of Iranian Photographers
Prizes will be given to the winners and selected at the opening reception of the exhibition.
Each participant could earn JUST one medal!
Enquiries:
You can contact by email:
Exhibitions2008 (at) Caroun (dot) com
CPC will contact you by email.
---
Sponsors: