Exhibitions 2005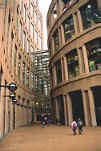 Photography Exhibition by Farzad Emami
October 7-12, 2005, Tehran
Farzad Emami, member of CPC & CAPA, has an exhibition of his photographs, taken by his digital camera (FujiFilm S602Z) and his film camera (Canon AV-1 with Vivitar 70-210 macro lens - Series 1), in Haft Samar Gallery.
The title of my exhibition was "Confession" which implied social criticism. Instead of others, I did confess about our wrong way of living, wrong attitude about environment, pollution, animal rights beside human rights, and sometimes about self-aggrandizement referring to political issues. That was not my tendency, but showing people the beauties of the nature can not be helpful in a society of aggressiveness; sometimes a kind of mirror is better.
The name of some photos in that exhibition can reveal the atmosphere of it: Broken life , Good bye 70's , The missed celebration, Thinker, Traffic, New citizens, Roof, Venus, Slippery Road, Marriage...
About 30 photos in 30x45 cm presented there. Nearly half of them were digital and among them some manipulation was applied. The photos that had taken on film were more realistic and documentary works. The name of some photos had chosen in ironic manner, which exaggerated the bitterness of them... Some of them even, evoke me now. No one buy any of them and there is no need to explain for the reasons! I like that exhibition so much for the powerful photos that addresses our contemporary people in our society.

Photography Exhibition by Monir Soltani
July 22-29, 2005, Tehran
Monir Soltani, member of CPC & CAPA, had an exhibition of his color photographs, taken by his digital camera (Canon 20D), in Nikol Gallery.
Subject: "Iranian Women"
Exhibitions