Type of museum: General
Opening hours: Everyday from 7:30 to 14:30
Address: Tabriz, Imam Ave., next to Blue Mosque
Tel: (+98) (411) 66343 & 65298


Present building of Azerbaijan Museum, is located at the center of Tabriz. Museum including three exhibition halls, (37x12 sq. m), some office rooms and library, is one of the largest museums of Iran.

Museum has 3000 square meters under construction. This museum containing 4600 registered antiques and artistic items, one hundred valuable hand written books as well as 2500 books in print about history, archeology and art, attracts those who are interested in Iranian Culture and Art.

Three halls of museum, basement, first floor and second floor, are used as permanent exhibitions of artistic, archeological and anthropological works, as well as those of constitutional period. On the first and second floor, being considered as the main part of the museum, there are various works of pottery and some bronzes belong to the fifth millennium BC. These objects are scientifically displayed in several windows according to their historical sequence. Works of pottery consist of bowls, small vats, tallow-burners, censers, water flasks and so on.

In the third to eleventh windows of this hall, there are some objects belonging to the first millennium B.C. from different parts of Iran, of which one of the most important ones is The Gold Hairpin.

In the Islamic part of this hall, objects on display belong to the 10th up to 17th century.

The division dedicated to the coins is located in the Western part of the hall, and contains coins of different historical periods of which the oldest ones belong to third century B.C. and the successor of Alexander the Macedonian.

In the hall of second floor, some remnants of Constitutional Revolution and objects being anthropologically important are on display. There are also several Interesting and unique photographs of characters of the constitutional revolution in this part. Ten windows of this hall are dedicated to anthropological objects. These objects include local costumes of different parts of Iran, hand written Quran belonging to 19th century, jewel boxes, shellacked pencil cases and some other devices used by Iranian people.

There are also some very precious objects and works of art of European countries, such as bronze statues and hand-made objects out of ivory and bone, as well as some beautiful oil paintings on display in this hall.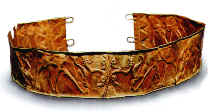 Golden Hair-Fillet, 4.5x5 cm (1.8x2 in) / 55 gr.
Jafar-abad, Khalkhal, Azerbaijan, First millennium BC
Decoration: Displays two opposite rows of rams flanking God Gilgamesh, executed in repousse with chased details.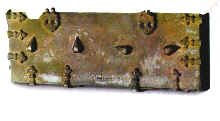 Metallic Combination Lock, 12x22 cm (4.8x8.8 in), Ajabshir (Azerbaijan)
Craftsman: Mahmoud Isfahani, 1157 AD
It has four cams, each capable of adopting one of 16 positions marked in Kufic characters in a circle. (65536 combinations of 4 digits)



Bronze Idol
12 cm (4.8 in), Lorestan, First Millennium BC
It features a cylindrical double-sided anthropomorphic representation of God Gilgamesh flanked by two rampant beats attacking him.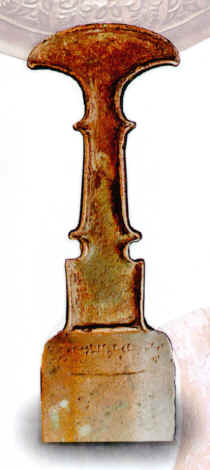 Bronze Sword
Coppered color, Length:70 cm (28 in), Width: 5 cm (2 in)
Maraqeh, Azerbaijan, 1007-1024 BC
An inscription in two lines, Babylonian cuneiform script, adoms the junction of handle with blade:
1- From Simash Shipak (Shikho)
2- King of the World


Sandstone Weight, Length: 27 cm (10.8 in), Width: 23.7 cm (9.5 in)
3rd Millennium BC
Two entwined snakes with facing heads are on one side of the stone and on the other side four temples are engraved.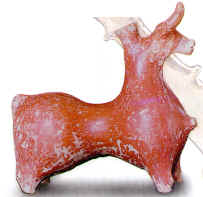 Ceramic Rhyton, Ocher Color, Length: 26 cm (10.4 in), Height: 27 cm (10.8 in)
Mianeh, Azerbaijan, First Millennium BC
This rhyton is in the shape of a hollow statue of homed bull and bears no design.


Lacquered Box
Materials: Cardboard & wood, 19th century AD
It is decorated with festive scene from Fath Ali Shah's Court (Qajar).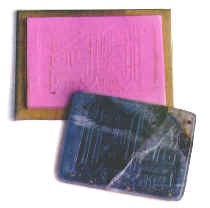 White Agate Seal
Length: 5 cm (2 in), Height: 3 cm (1.2 in), 9th century AD
It is engraved with an inscription in decorative Kufic script and bears the name of "Roknodoleh Hassan ebn Buyeh" below it.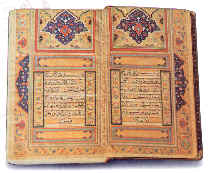 Quran
L22.5x13.5 cm (9x5.4 in), Leathern book cover
Fath Ali Shah Qajar period (1816)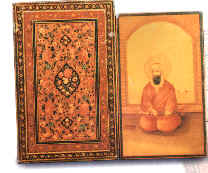 Lacquered Mirror-Case
Materials: Cardboard & wood; 18th century AD
It is decorated with miniature pattern of flowers, birds and butterflies.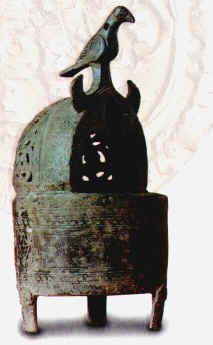 Bronze Incense Burner
Height: 22 cm (8.8 in), Khorasan, 12th century AD
Chased and open-worked with copper inlay. A bird statuette surmounts the altar-shaped top of the burner.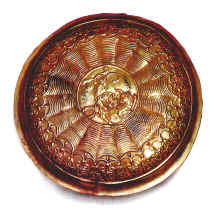 Lacquered Mirror-Case
Diameter: 19 cm (7.6 in); Height: 3.2 cm (1.28 in)
Talesh, Guilan; Achaemenian
The center of bowl is decorated with medallion displaying lion attacking a bull, executed in repousse with chased details. These motifs are very frequent in Achaemenian art.


Ceramic Dish
Diameter: 32.5 cm (13 in); Height: 9.2 cm (3.7 in)
Kashan; 13th century AD
Surface of dish is divided into for petals, painted in lapis lazuli color and enclosing a hemistich by Abu Said Abelkheir.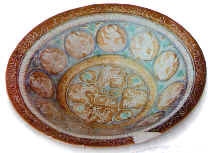 Lusterware Ceramic Dish
Diameter: 34 cm (13.6 in); Height: 7.5 cm (3 in)
Gorgan; 13th century AD
Painted and glazed dish bearing a quatrain by Afzalodin Kashani, on its border.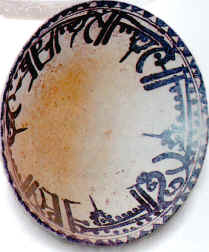 White Glazed Ceramic Bowl
Diameter: 20 cm (8 in); Height: 7 cm (2.8 in)
Neishabour, Khorasan; 10th century AD
This painted and glazed bowl bears a frieze in Kufic script.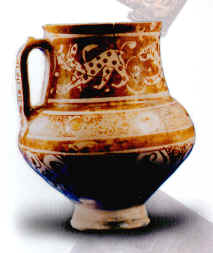 Ceramic Pitcher
Diameter: 9.5 cm (3.8 in); Height: 16.5 cm (6.6 in) Gorgan; 13th century AD Golden paintings of 3 animals cover the white background of the pitcher and Arabesque designs are visible on its lower part.


Ceramic Pitcher
Upper Diameter: 6 cm (2.4 in); Height: 12 cm (4.8 in); Buff-colored
Shahr Sukhteh (SYstan & Baluchistan); 4th millennium BC
Black geometric patterns cover the vessel's neck and the upper part.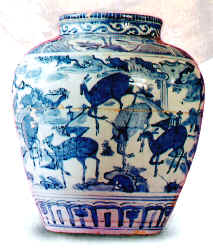 Ceramic Jar
Diameter: 17 cm (6.8 in); Height: 36 cm (14.4 in)
Ardebil, Azerbaijan; Safavid (Shah Abbas, 16th century AD)
Natural landscapes lncluding trees and deer are painted on it, which also bears the Seal of Shah Abbas.


Ceramic Bowl
Upper diameter: 11.5 cm (4.6 in); Height: 9.5 cm (3.8 in)
Ismail-abad, Karaj; 5th millennium BC
It has a gutter beak on its edge and a row of pared triangular patterns surrounds its body.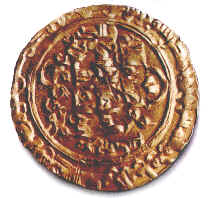 Gold Coin
Diameter: 2.4 cm (1 in); Weight: 4.6 gr.
Minting place: Ahvaz, 1110 AD
Soltan Mahmoud Qaznavi period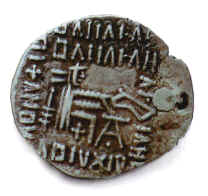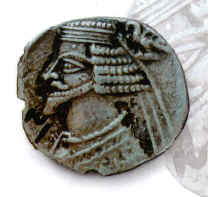 Silver Coins
Diameter: 2 cm (.8 in), Weight: 3.6 gr.
Parthian era
It bears an engraving Farhad (!4th Ashk) and that of an archer holding a bow. In its margin, the names Basileus, Arshakus, Ikayus, Epiphans and Philhellenus are inscribed.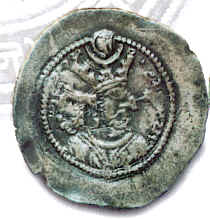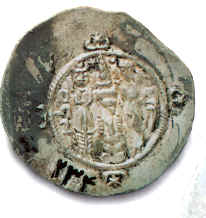 Silver Coins
Diameter: 3.3 cm (1.3 in); Weight: 4.12 gr.
Sassanid Monarch
The recto bears on effigy of Yazdgerd III and the verso displays a holly brazier flanked by 2 soldiers, standing, sword in hand.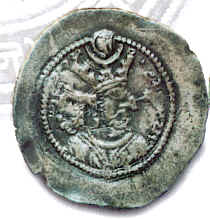 Silver Coin
Weight: 2.9 gr.
Omavian Period (Hashem ebn Abdolmalek, 695 AD)
Minte in Vaset, a city in Iraq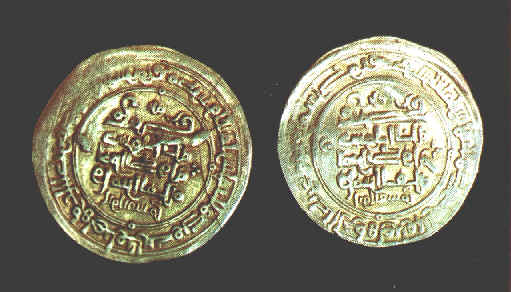 Coins
After Sassanid Monarch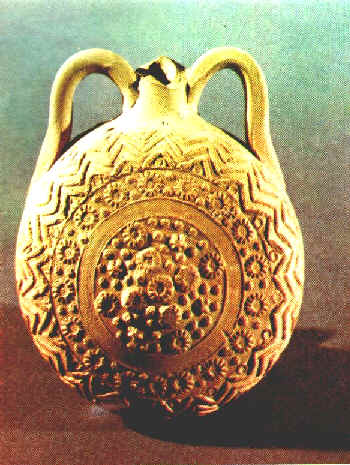 Buff-colored Ceramic Jug
1st millennium B.C.; Arsacid
Relief Decorative Patterns