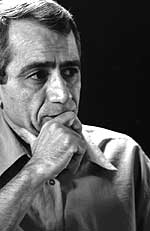 Hamid Ahmadi
(Photo: Masoud)



Poet

Hamid Ahmadi
.
.
Iranian Poet, Writer & Translator
.

Hamid Ahmadi
Born in 1951 in Tehran

Books
Hour of Rain
Collection of poems/Vijeh Negar Pub./First edition 1999/Tehran/Persian language/
An Introduction to Sociology
Feminist Perspectives/Translation to Persian with Maryam Khorasani/written by Pamela Abbott & Clair Wallace/ Donyayeh Madar Pub./First edition 1997/Tehran/Persian language/
Lafcadio
Story for youth/Translation to Persian/written by Shel Silverstein/Association for Mental Education of Children & Youth's Pub./Sexond edition 1998/Tehran/Persian language/
Selected book by Children Book Council of Iran in 1996, in Translation section
The Tight Shoes of Donya
Story for youth/Soroush Pub./First edition 1998/Tehran/Persian language/
Peacetimes
Literary-educational text for youth/Translation into Persian/written by Katherine Scholes/Illustrator Robert Ingpen/Vijeh Negar Pub./First edition 1999/Tehran/Persian language/
On the Line
Collection of poems/Gohar-shid Pub./First edition 2003/Tehran/Persian language/

Criticism of Poem & Stories & Translation of Various Articles in the Press
Art of Poem
Translation from The Encyclopedia Americana International Edition/completed in 30 volumes/first published in 1829/Published in 1995 by Grolier Inc./volume 22/
Goharan Quarterly/No. 4/Summer 2004/Tehran/Persian language/
Misunderstanding the blanks or Post Nima's Poetry?
Literary Critic/A critic of the collection of poems "I Am the Drizzling Rain", composed by "Ali Baba Chahi"/
Kelk Monthly Magazine/No. 100/December 1998/Tehran/Persian language/
Dark Room With Small Window
Literary Critic/A critic of the book "In the Depth of the Scene" written by "Fariba Vafi"/
Book Criticism/No. 4/Nika Pub./1998/Meshed/Persian language/

I passed, from myself
Didn't recognize him
He called me
I turned around
I stood there
I just recognized me
And then
He washed my hands
I stood still
Clean and gazing, shame stricken
Through my gaze, he entered and said: "Not to be repeated!"
I was not repeated
I don't want
to be in my bad looks, anymore

.
.